Transforming a Bi-Level to Sell (Part 1)
As a former home stager, I looked forward to working with clients who valued my expertise and trusted me with de-personalizing their homes to sell faster and for a higher sale price.
This particular staging client was a former realtor and knew the benefits of hiring a home stager. She had lived in her home for several decades, raised her family there, and even became a widow while in the shelter of this home. I knew I was working with a very special house–and person. She was so fun to work with!
We started by focusing on the most important room: the kitchen. My client didn't want to replace the 80's style cabinets, and she couldn't paint them because they were a laminate veneer. Since they were in great shape, we worked with them by bringing everything around them up-to-date. Her appliances were old and mismatched and she intended to replace them (hence, making the kitchen move-in-ready). She first selected a marked-down refrigerator so she didn't blow through her staging budget. From there, she ensured all the appliances she chose matched (not all stainless steel from various manufacturers will match!) Next, we replaced her dark, faux brick linoleum with a vinyl plank tile that looked like stone and could even be grouted. We upgraded the countertops from laminate to a simple, not-so-veiny granite and installed a simple white subway tile backsplash to lighten and brighten the room. We kept the table exactly where it was but painted her vintage Thonet bistro chairs to freshen up the corner. Finally, we removed the dated wallpaper and chose a light and neutral paint color. (Tip: When staging or updating your house, choose a paint color that works with "the bossiest" element of the space. In this case, it was the new flooring.) Finally, we simplified the decor to appeal to new buyers.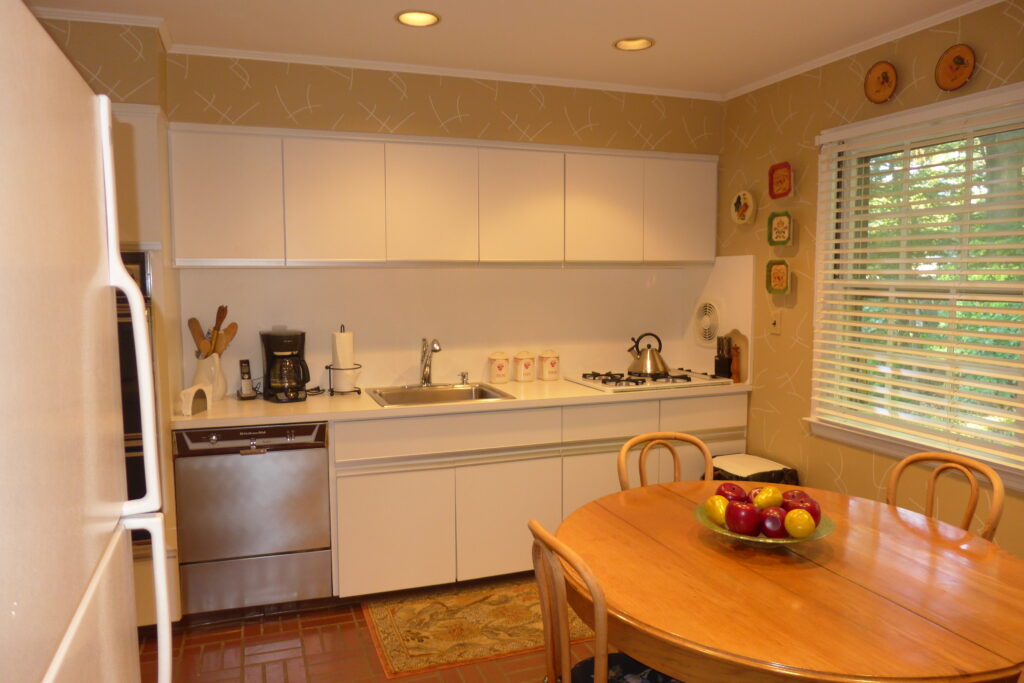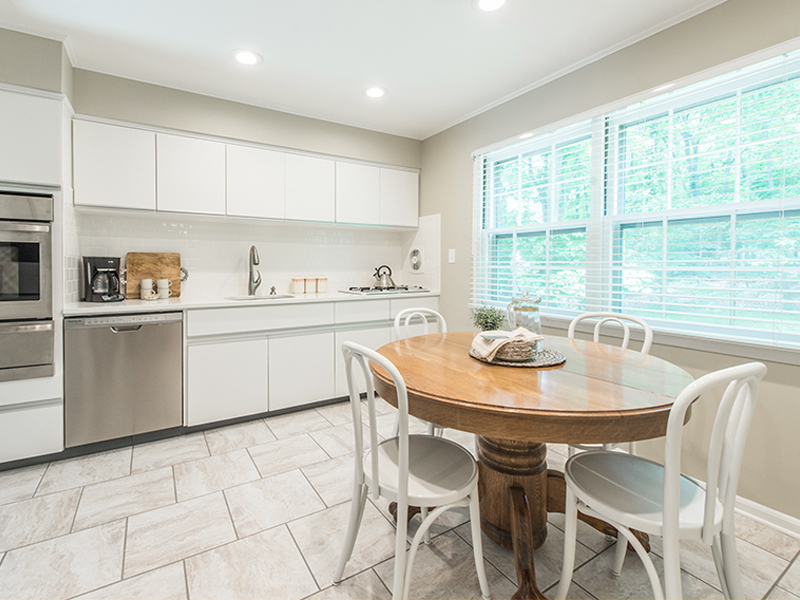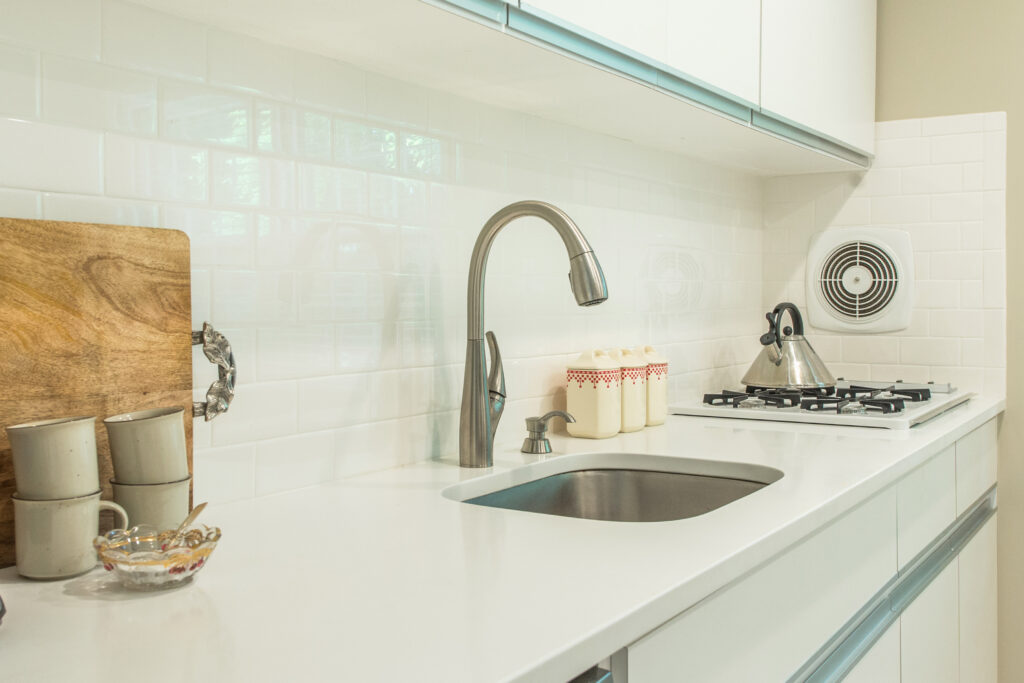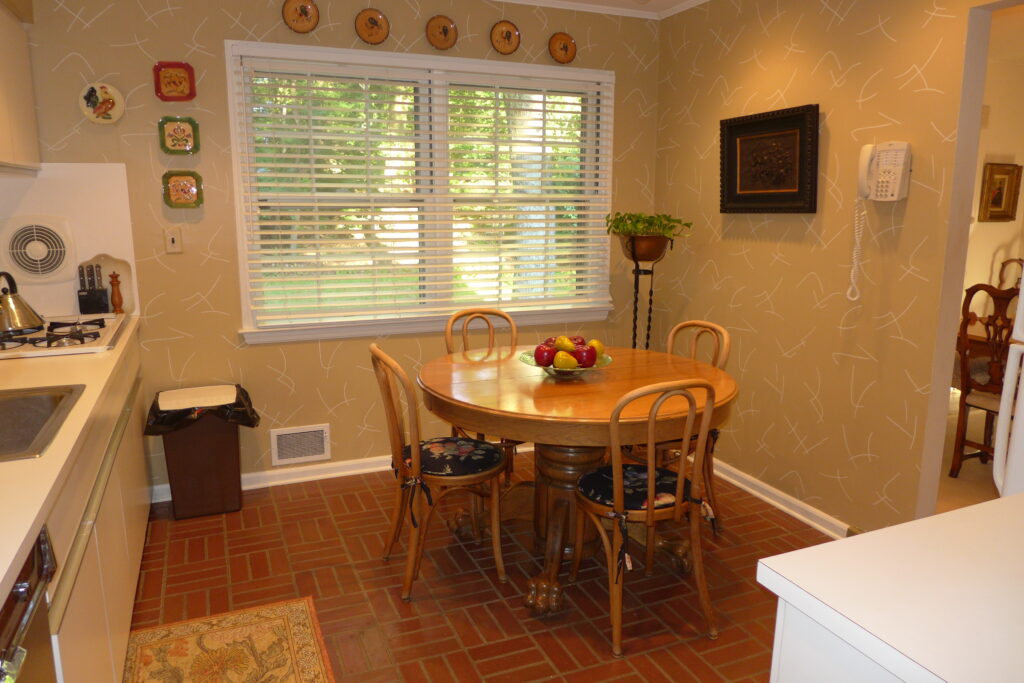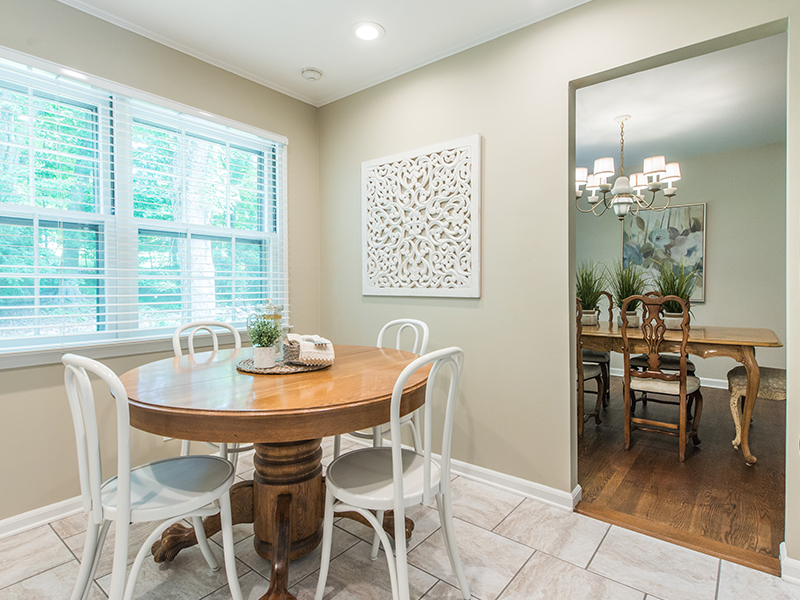 We moved on to refreshing the dark, drab dining room. The off-white wall color wasn't warm enough for the space, which didn't get much daylight. We carried the neutral paint color from the kitchen into her dining and living rooms. The shades of the chandelier were yellowed and had dated eyelet cut-outs, so we replaced them with simple white shades to help modernize the light fixture. Additionally, the space needed some "life" in the form of faux greenery, so three tall grasses became the centerpiece. Finally, we replaced the heavy artwork with simpler, soothing artwork from Homegoods.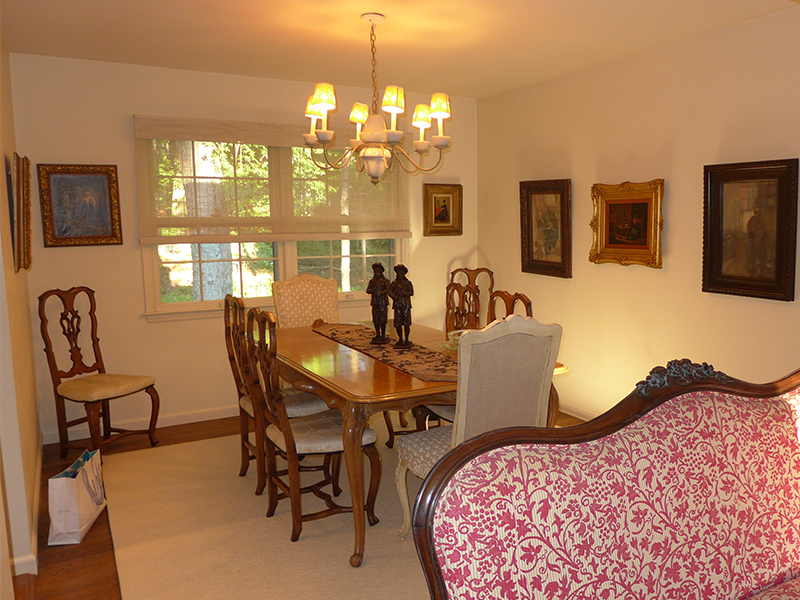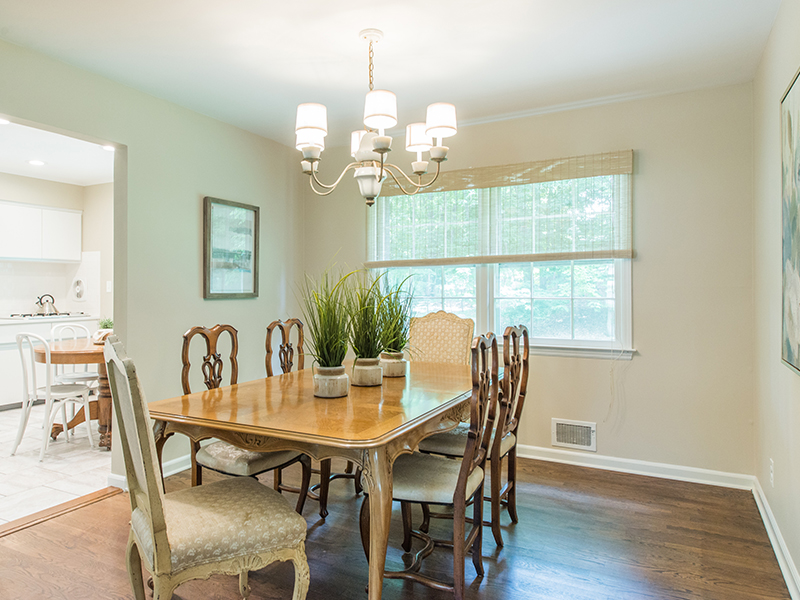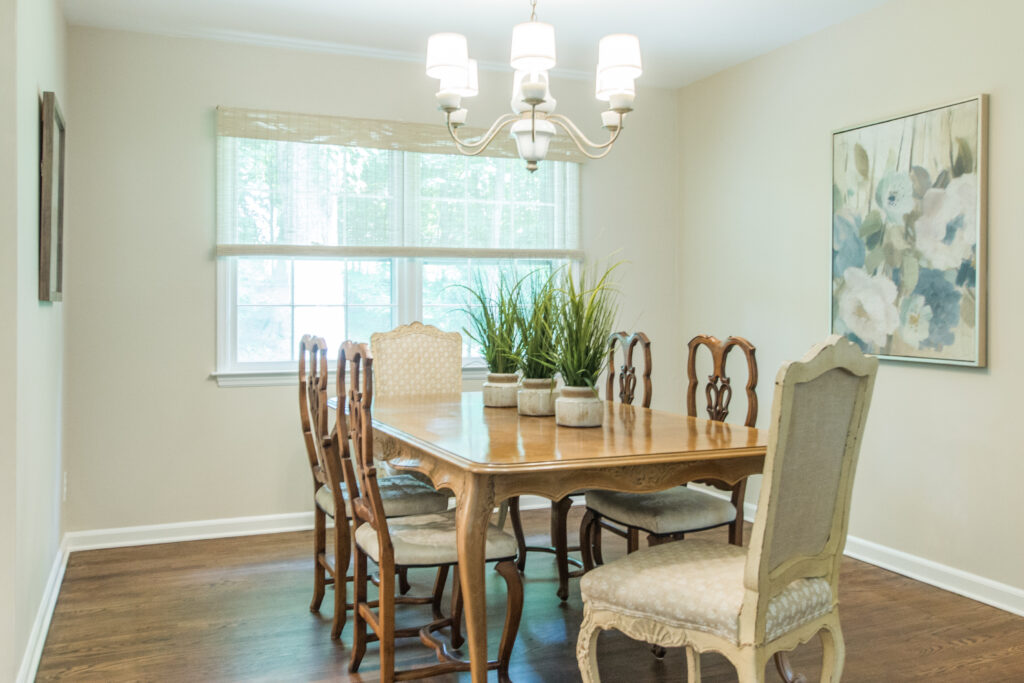 Next, we tackled the living room. There was definitely an elephant in the room that was going to prevent any potential buyers from seeing the actual amount of space this room offered! We found someone that accepted piano donations and moved the baby grand out. I do think this was an emotional move for the seller, but she understood that the piano had to be removed in order to sell her house quickly. My client didn't want to purchase new furniture because she didn't want to be locked into two new chairs or a sofa that wouldn't work in her new condo. We worked with the existing furniture and replaced the rug and accent decor.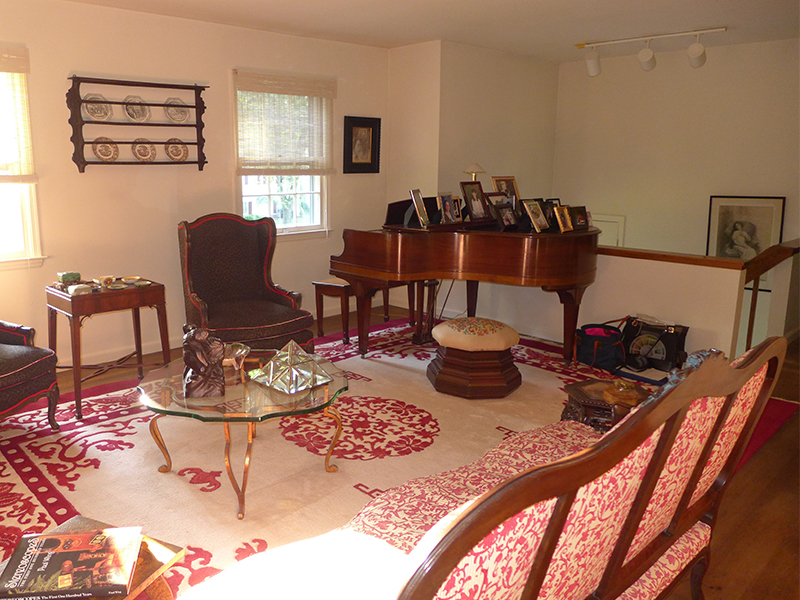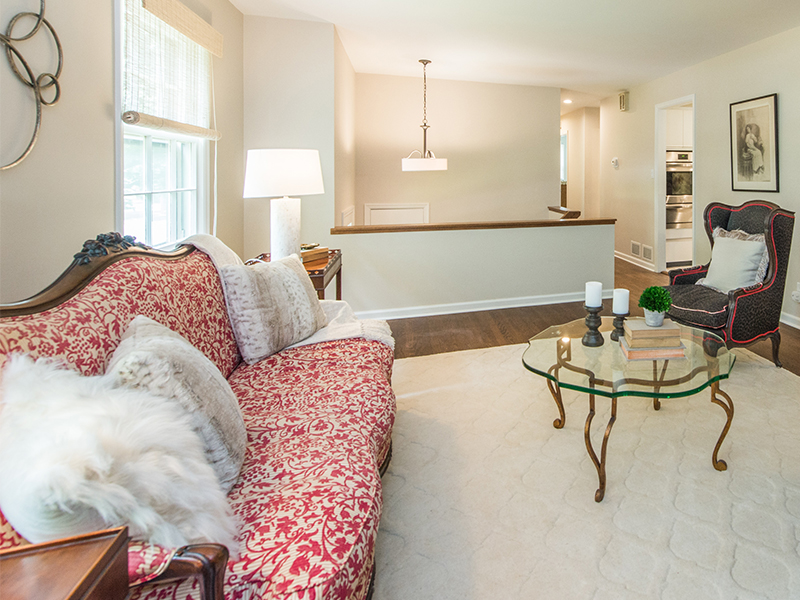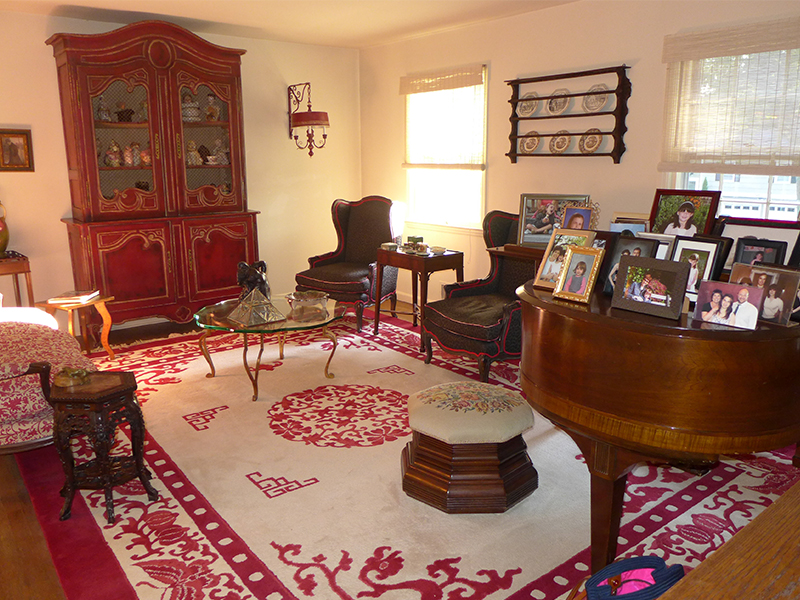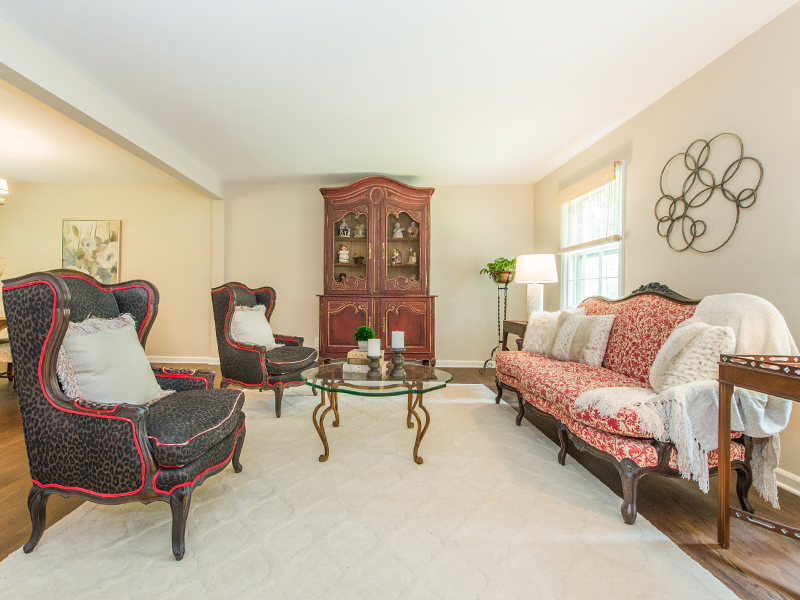 As you can see, when staging an occupied home to sell, it's most helpful to edit your furnishings and decor and be willing to make relatively small investments to best showcase your home to appeal to a wide audience. Often times, my staging clients used the items purchased to sell their old homes in their next home. Most also fell in love with the paint colors we used for staging and carried them into their new home.
In this particular occupied staging, my client sold some of the new staging items to the new buyers (the wooden artwork in the kitchen and the arabesque living room rug). She loved the paint colors that we used throughout her old home so much that she painted her new condo in many of the same hues. She also hired me to design her new space by merging her sentimental possessions with high-quality, new furnishings while maintaining the vintage vibe she enjoyed. You can see that project here!