How Do I Make A Gallery Wall?
Creating a gallery wall can seem daunting at first–there are so many ways to display them! I'm happy to offer advice on selecting frames, subject matter, and an installation plan. Whether you have a Type A or Type B decorating personality, I know you have goals for a killer gallery wall. So let's do this!
Should I Use Matching Frames?
If the types of photos you want to use feel a little "hodgepodge", you may want to keep your frames simple and choose all the same color. I like to shop for matching frames at stores like Pottery Barn, West Elm, and Crate and Barrel. If you need custom sizes or want a bigger selection of frames, try Framebridge.com. Their web site allows you to upload photos and they take care of the framing and matting. Voila! The finished products arrive right at your door!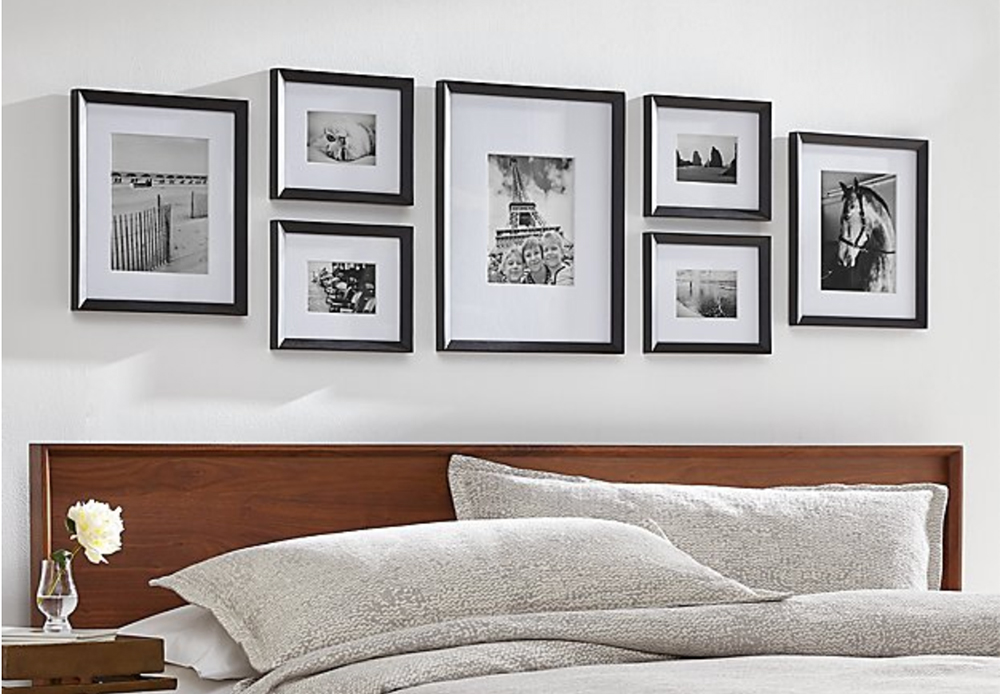 If you prefer a casual and collected style, try hanging various frames and canvases on your wall. This works well for eclectic galleries that display art or photos + art. If you appreciate art but don't yet have a collection, shop at estate sales, thrift stores and garage sales for great finds. Fill in the gaps for final pieces at Etsy.com, Minted.com, or even using some of your favorite kids' pieces.
Prefer to keep it simple and avoid choosing whether to match frames or not? Make a canvas print wall gallery. Upload your images to Shutterfly.com to have them printed and delivered right to you. They have so many sizes to choose from!
Ideas for Photo Gallery Walls
A Season of Your Life
I have a fairly large, 19-frame gallery wall in my foyer that I refer to as my "I Survived Toddlerhood" wall. I'm super proud of it because I was a stay at home mom with no outside help, which was difficult for me. As cute as my kids were, it was an exhausting time. I remember going to bed half an hour after my boys did every night!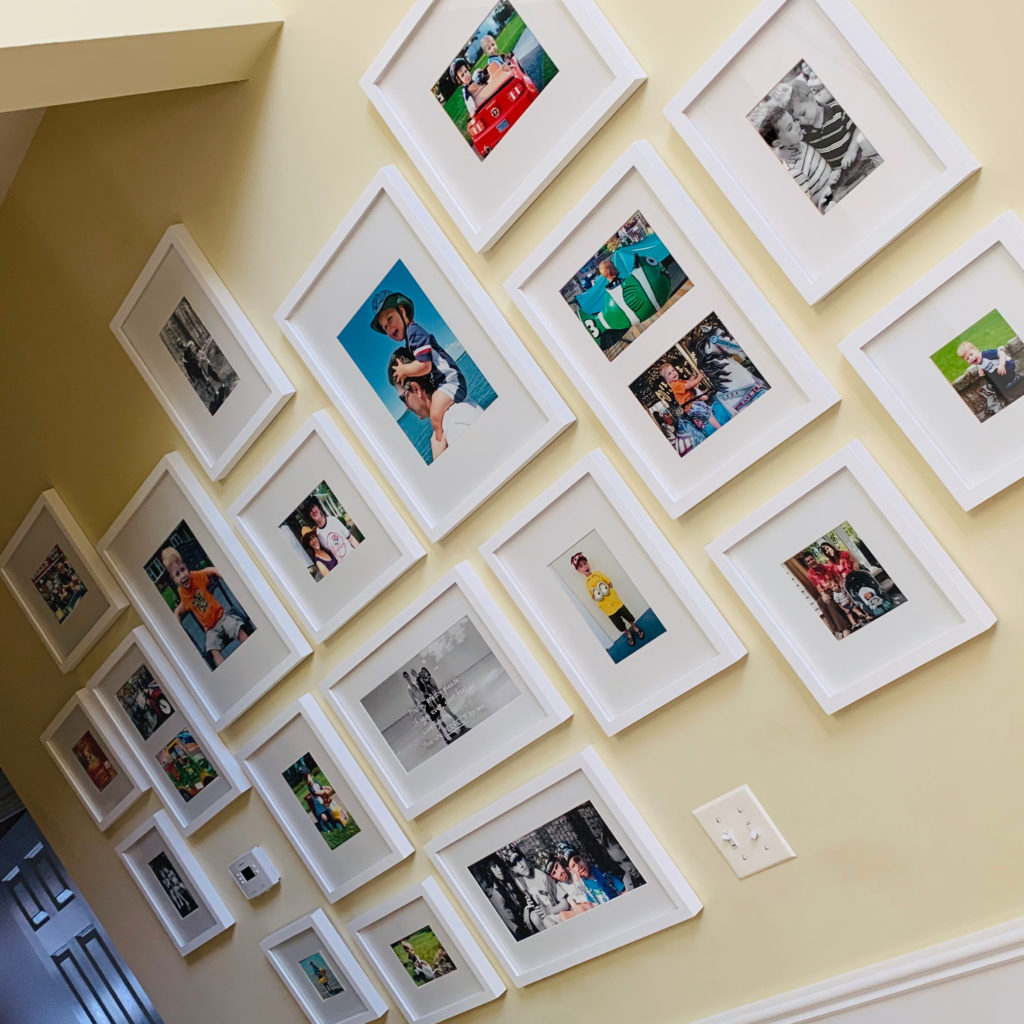 A Favorite Travel Destination
Select photos from weekends at the shore house, your favorite city, or a once in a lifetime trip. Your gallery can start out as photos of your new family with young kids. Swap out photos as the kids, travel destinations, and memories grow over time.
A Special Family Photo Shoot
This is something you may want to plan out ahead of time. Do you have a room that is otherwise complete and needs some art? What colors are in the room? Is your style contemporary, casual, or coastal inspired? You probably don't want to go matchy-matchy-poo-poo with your clothing choices, but you can still come up with outfits that will coordinate with each other and the room you intend to hang your photos in.
What About Ideas For an Art Gallery Wall?
Simply choose art that speaks to you! Whether it's the style, color, energy, or feeling it evokes, you can make it work if you love it. It's that simple.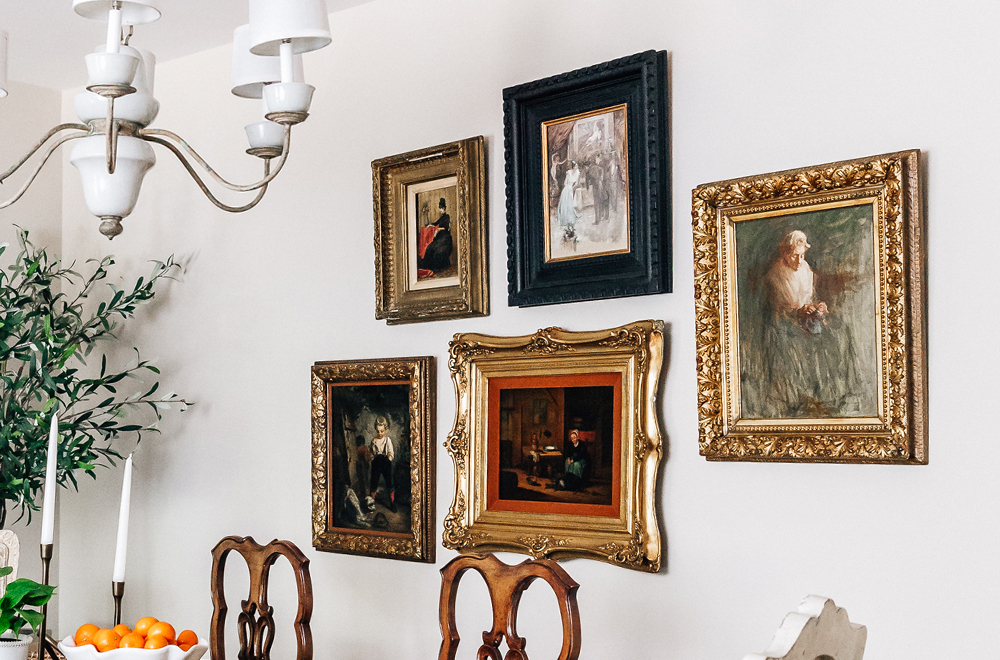 Spacing Your Frames
If You Have a Type A Personality 🙂
Keeping things simple, if you have a gallery full of smaller frames that hold 4″x6″, 5″x7″ and 8″x10″ images, try spacing your frames close together–about 2" apart. If you have large pieces of art or wide frames, you can spread them out to about 4" apart. It's best to lay out the frames on the ground and take a birds-eye view to see what distance you prefer between the artwork.
If You Have a Type B Personality 🙂
If you have a more casual, eclectic home, you may not want to fuss so much! It depends if you can live without "rules" or symmetry. Just hang your framed art and photos so they feel balanced on the wall and next to the pieces that surround it. Balance comes from playing with the size, shape, and color of the frame as well as the art itself. Spacing doesn't matter as much, as long as you don't have an extraordinarily large gap anywhere.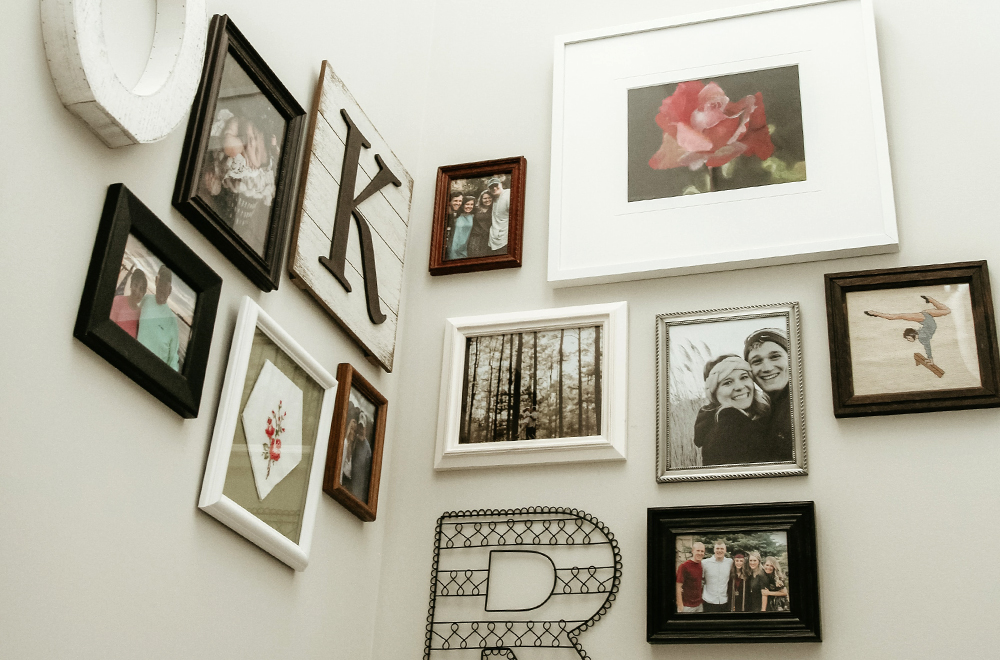 Laying it Out: Type A Personality
Buy a Pre-Printed Wall Gallery Template
Michael's or similar stores often carry gallery templates. Keep in mind that these templates won't always fit into your allotted space and require you to use certain frame sizes.
Make a Template Using Craft Paper or Painter's Paper
You can find painter's paper at your local paint store or big box store. Lay out all your frames on the paper. Start in the center and space them out 2" to 4" apart or so (left and right, up and down). Once you're happy, trace all the frames–even measure out where the nail will go onto the paper. Hang your template on the wall using painter's tape so you don't remove any paint from the wall once you remove the template. Make sure to use a level while hanging your template!
Graph Paper
Have each square count as 5" or whatever works best for your space and start drawing from the center outward. Now you have a plan, but you'll need to eyeball it to translate it onto the wall. This works well if you have a good co-pilot!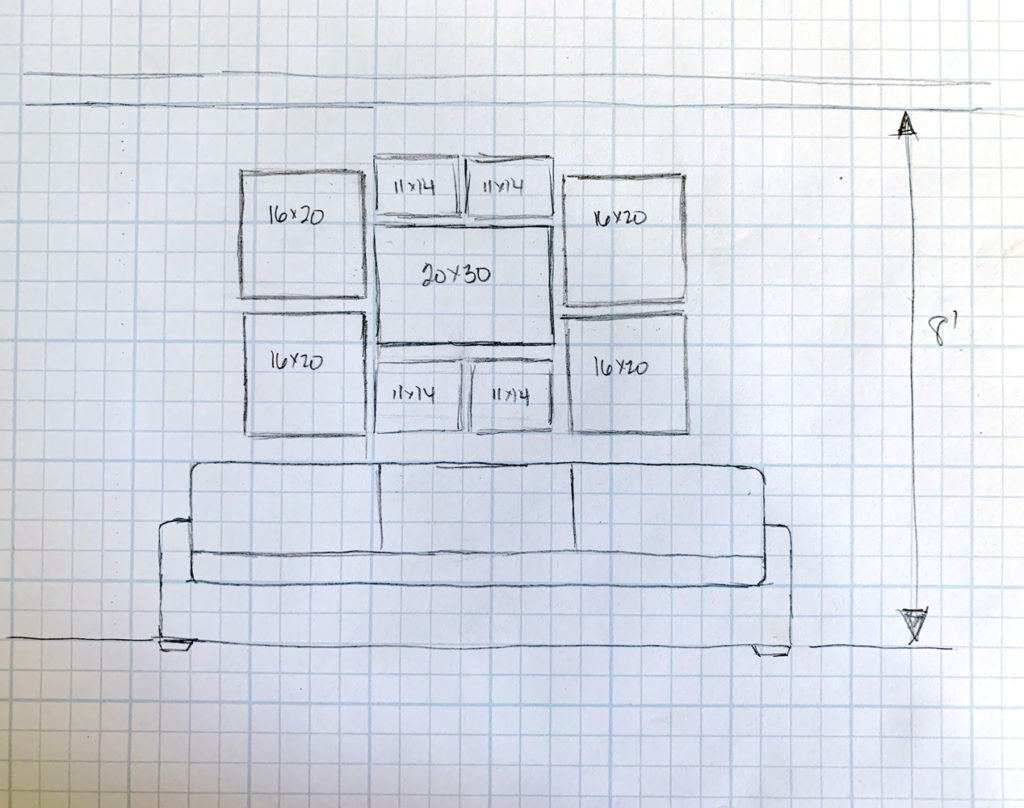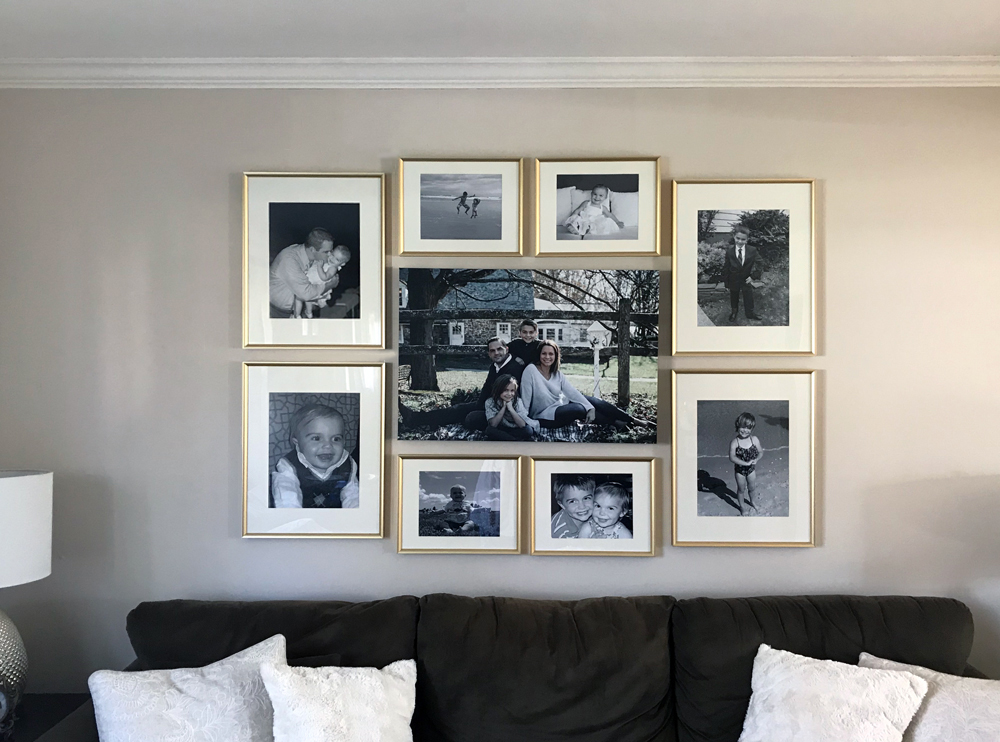 One Final Tip for Type A's:
I find it's easier to choose photos for your gallery after the frames have been laid out versus making the gallery work for pre-chosen photos. (OK, I actually have a second tip if you have kids. Make sure you have the same amount of photos displayed for each child. You're welcome.)
I give up, I don't want to make a gallery. Help me decorate my walls!
Fear not! We got this. How about some oversized art? Large art is trending right now. Shop for pieces that are 2/3 to 3/4 the width of the piece of furniture you want to hang art over. (You can also choose two or three large pieces with space in between that add up to this width.)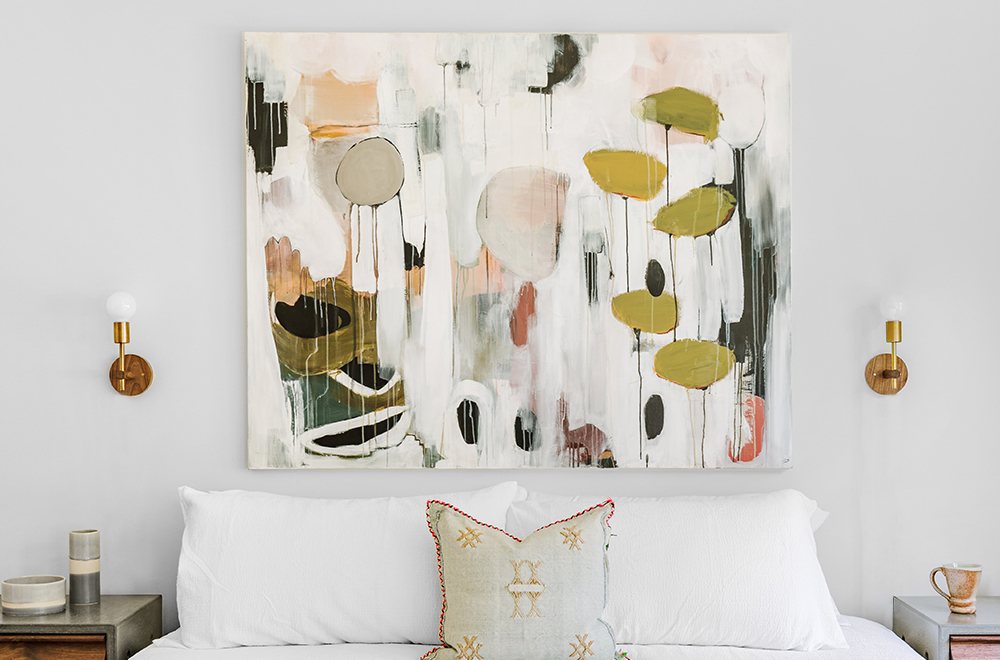 Expect to pay about $400 at a decent retailer for a 40" x 40" piece of art, but that price can go upwards if you're purchasing from a higher-end vendor or a gallery. And if you purchase a giclée or a print, don't forget to factor in the cost of matting and framing.
The bottom line is to fill your home with things you love. There's truly no need to stress because perfection is overrated. I hope this helps! Don't forget to share your new wall gallery pics with me down below!
Reach out to us when you're ready to schedule a consultation for design ideas that are unique to your home.