Bye-Bye Bi-Level, Hello Condo! (Part 2)
I absolutely adore helping homeowners design their new spaces, especially ones they're moving into for the very first time! After assisting my lovely client to sell her bi-level home of over 4 decades, I helped her choose everything from flooring and paint, to cabinetry and vanities, to furnishings and art for her new condo.
I started the process knowing my client wanted a warm greige color on her walls throughout the main living space, similar to what I spec'd for her home to sell. She had grown tired of living with the cold, white walls in her former home which didn't get much light (same as the new condo). In choosing hard finishes, we continued down the path of things the client loves, which led us to dark, hardwood flooring. This was a non-debatable and would also help to warm up the space, so we quickly made a selection and locked it in!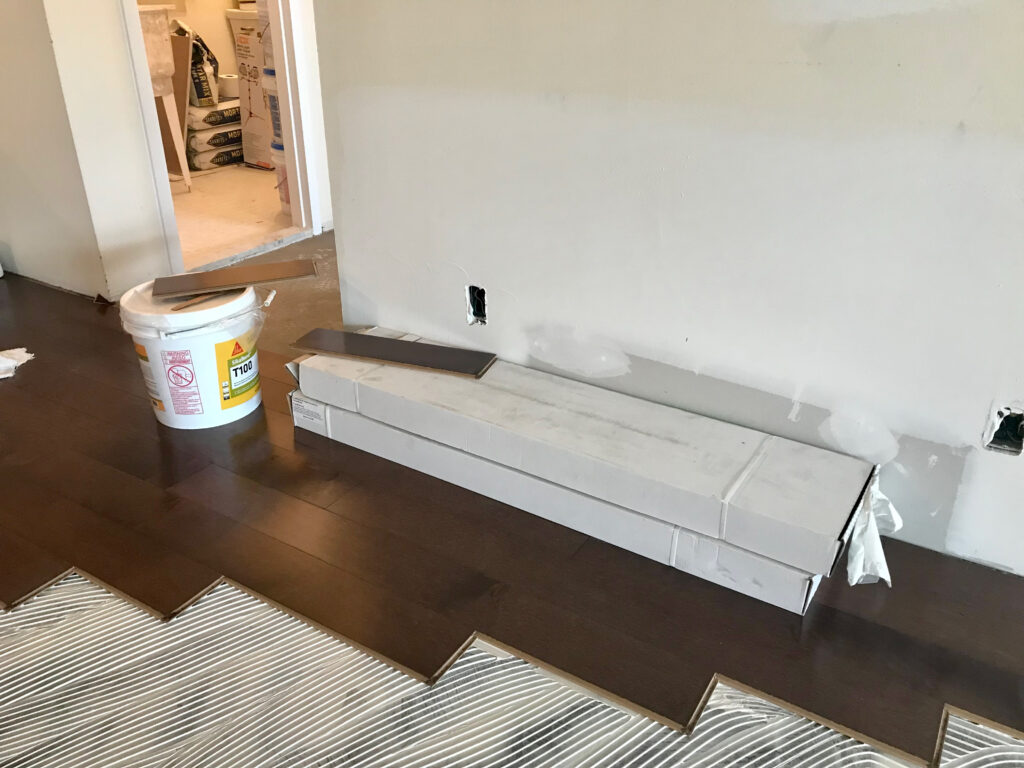 Next, we turned our attention to the kitchen. This condo had a closed, galley style kitchen. My client was older and a little more formal, and she didn't like the idea of open concept living. We opened the one entrance into the living room just a wee little bit and wrapped shallow cabinetry around that corner, but otherwise kept the kitchen closed off as it was. We replaced the cabinetry and chose simple slab-front doors painted white. Since the client does not enjoy cooking and rarely entertained, she chose basic appliances. She joked that the microwave was the most important of them all, haha! We added texture to the kitchen by choosing a herringbone backsplash with a very pale gray grout.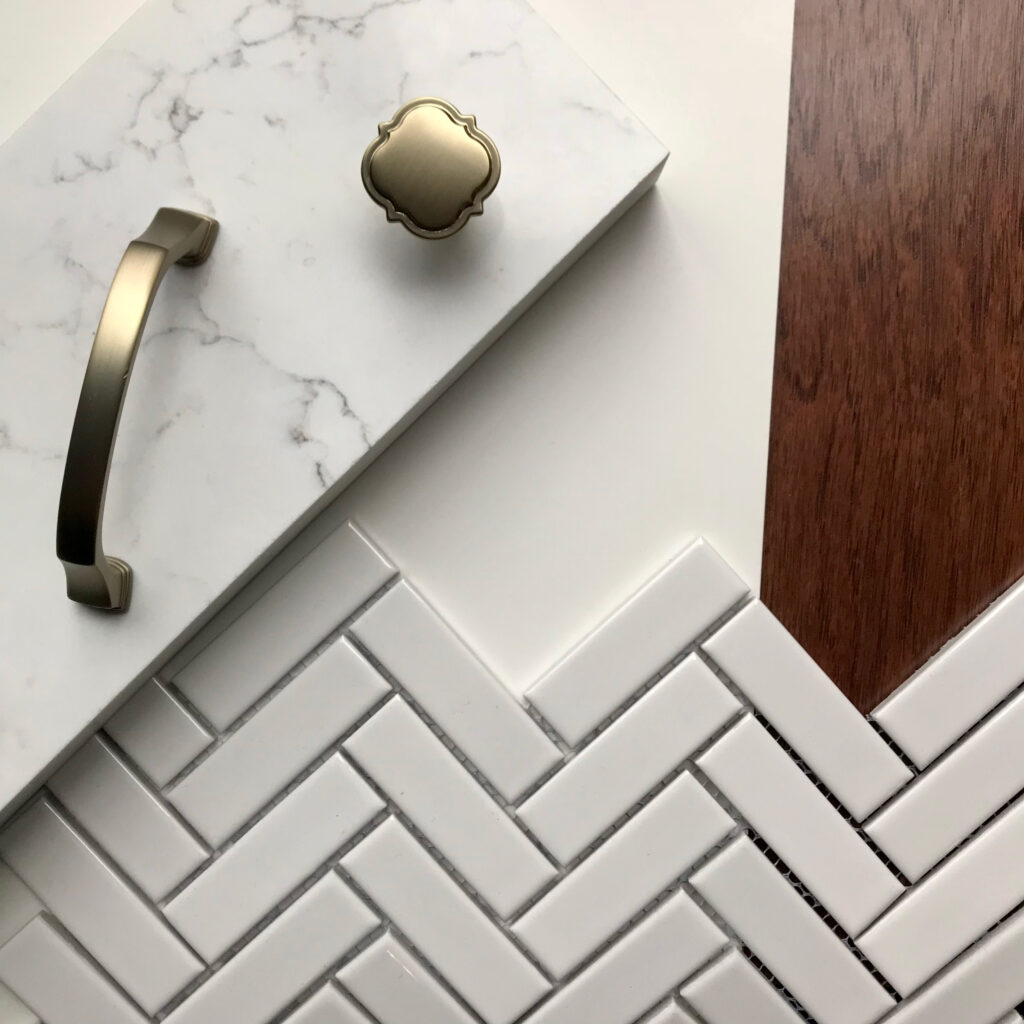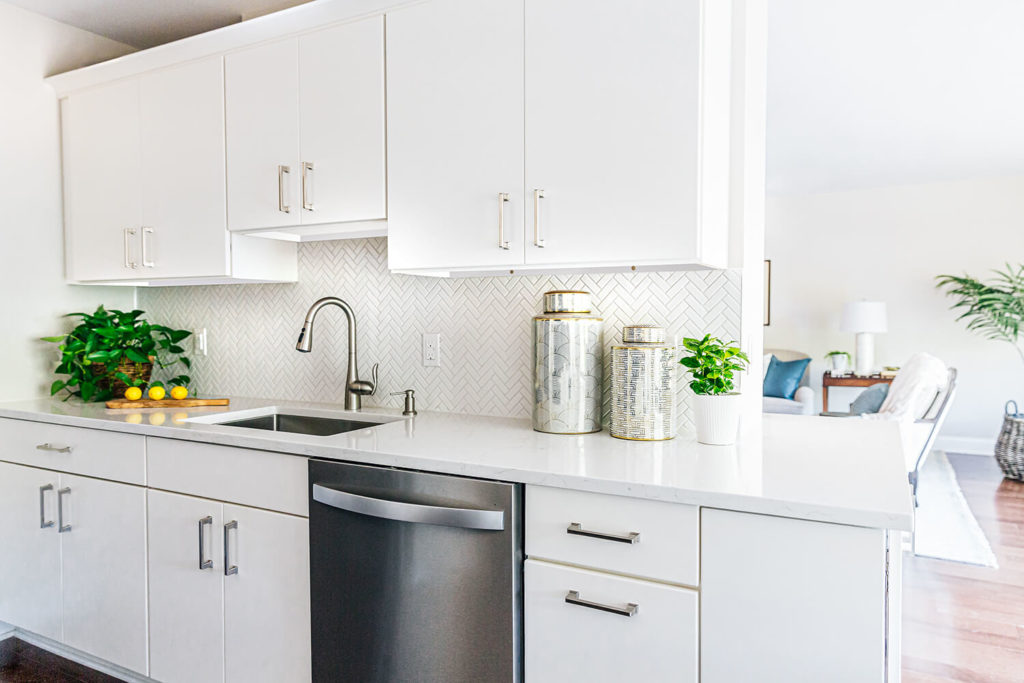 My client really cherished the artwork that she and her late husband had collected together. We spent some time laying out her pieces into a gallery to hang behind the formal dining table.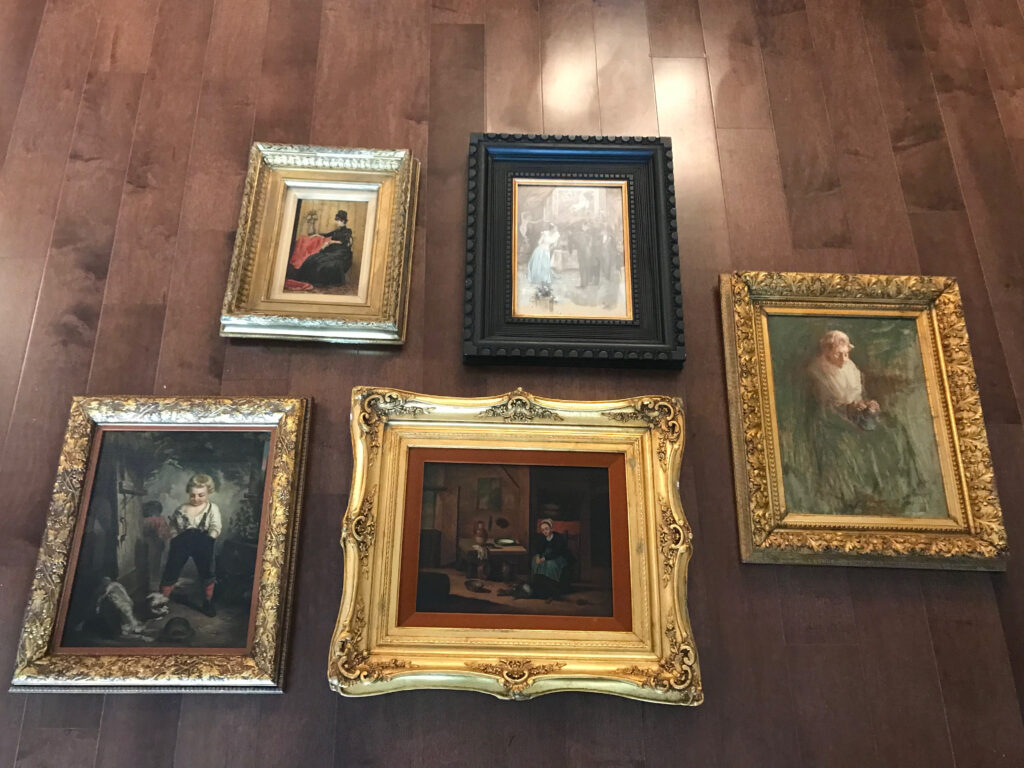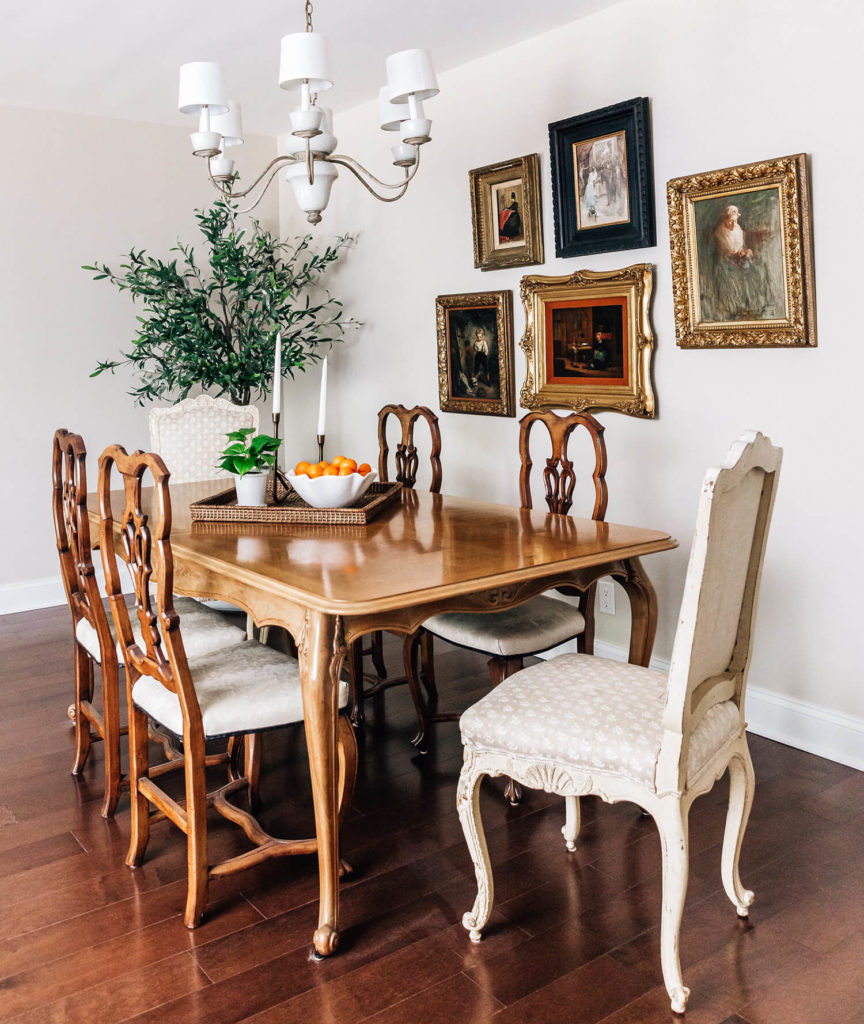 My client wanted vintage, yet uplifting art in her kitchen. I scoured all of my sources and ended up finding a lovely variety of colorful vintage fruit on Etsy. We ordered the prints and had them custom framed. Since the kitchen design was so simple, I chose large-scale artwork for interest in this space.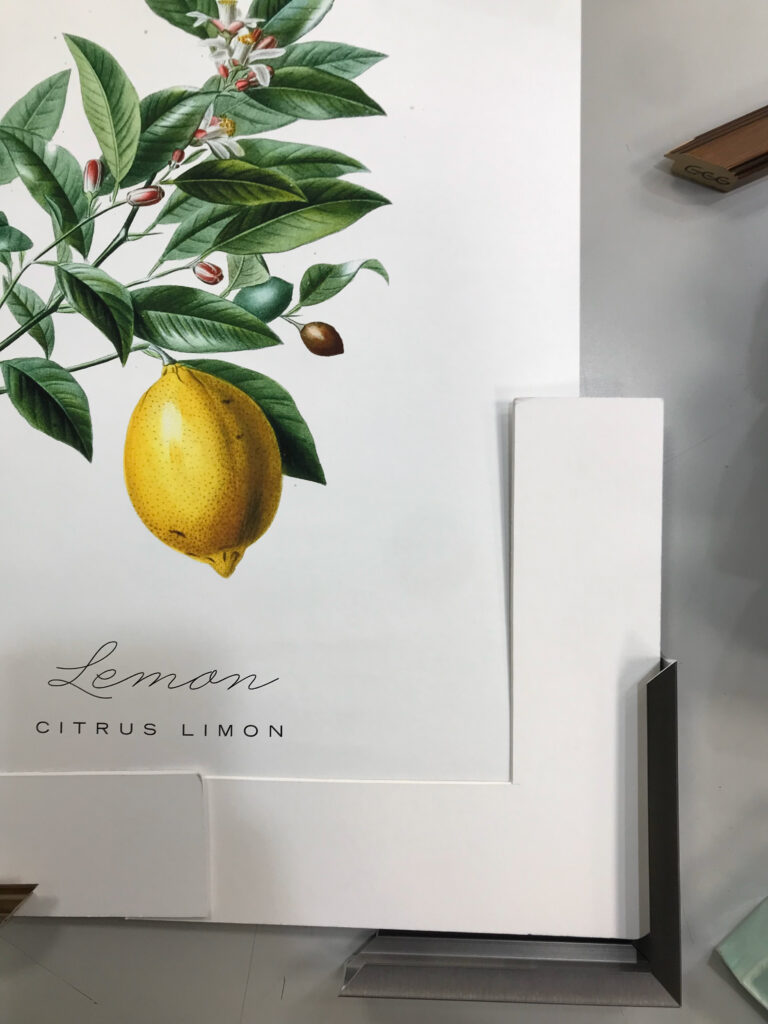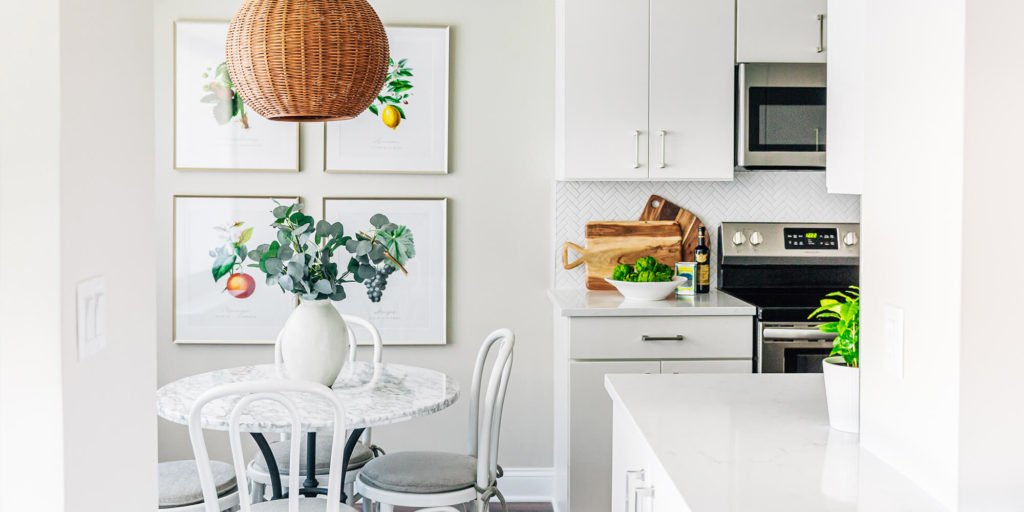 In addition to the herringbone backsplash, we added more texture to the kitchen by adding a rattan light fixture over the new French bistro table. The client brought her classic Thonet chairs to the condo, which we had painted white for staging her former home to sell. We also had custom seat pads made especially for the chairs.
We chose traditional furnishings for her formal living space. My client chose not to have a tv in her living room, preferring it stay a more formal space instead. (Her second bedroom became her office/den with a tv.) She was old-school and I admired that! She fell in love with Bergere chairs which we customized with dark wood frames, and a beautiful silver-blue fabric with a small print. Believe it or not, we selected her sofa second, and chose feminine lines to work with the feminine Bergere chairs. We brought in touches of spa green in the throw pillows and in the hand-knotted wool rug. She re-used her own glass and copper coffee table, along with dark end tables, and the lamps she purchased for staging her former home. And of course, we hung her cherished artwork over the sofa.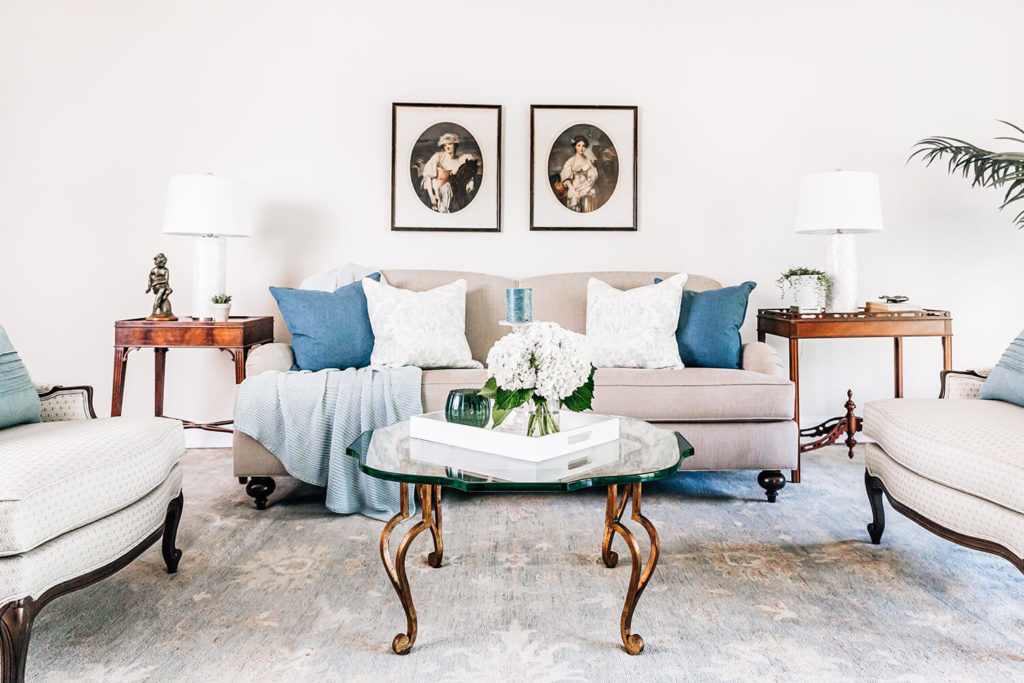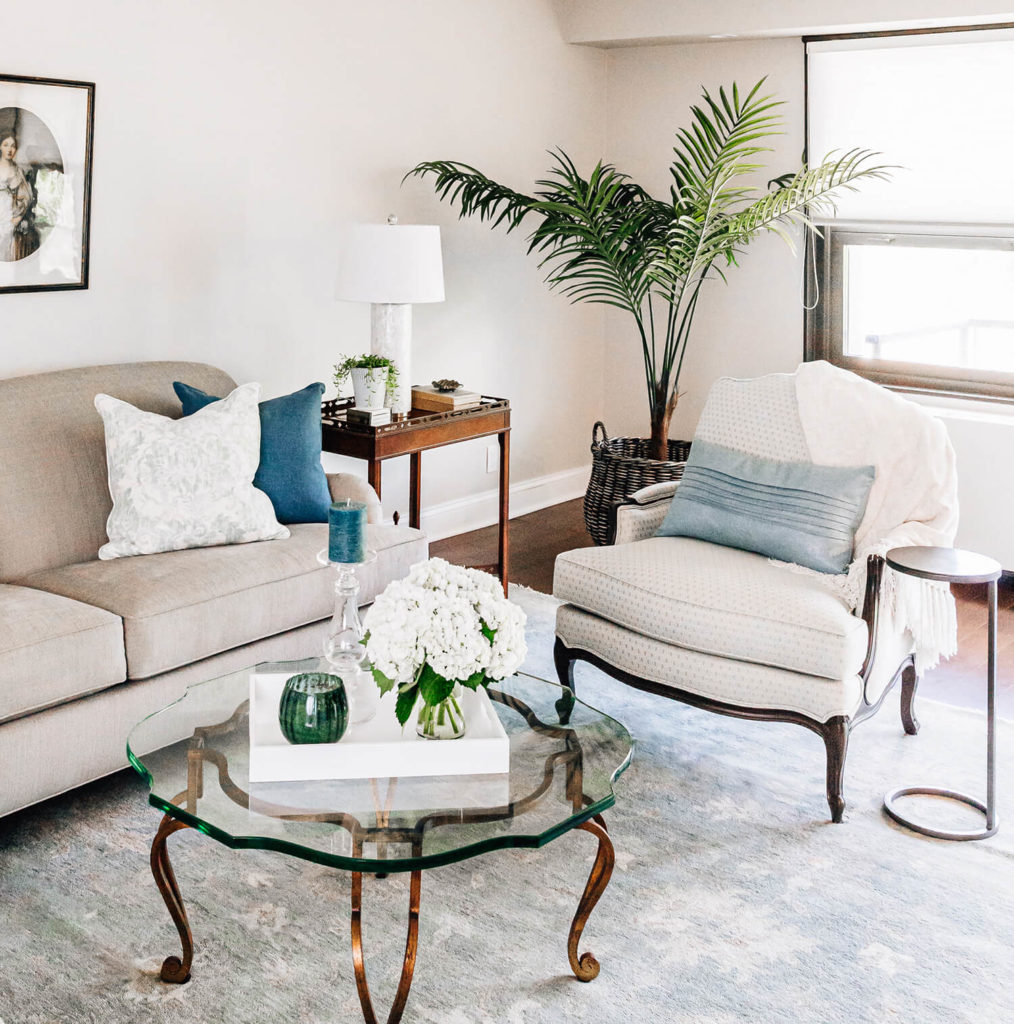 My client also had an extensive pottery and sculpture collection in her old home. She kept only a few pieces and that she wanted to incorporate into her new space. Since red didn't exist anywhere in the newly redesigned condo, we decided to showcase it in the foyer. We selected a new metal and glass console table (traditional and contemporary can play nicely together) so that she could also have a place to drop off her keys and purse, and check her makeup before leaving. The wall behind the console needed something more. In getting to know my client, I learned that she grew up in Brooklyn. I found these fabulous prints of the Brooklyn Bridge on Etsy and had them framed to balance out the mirror that she brought with her to the new space.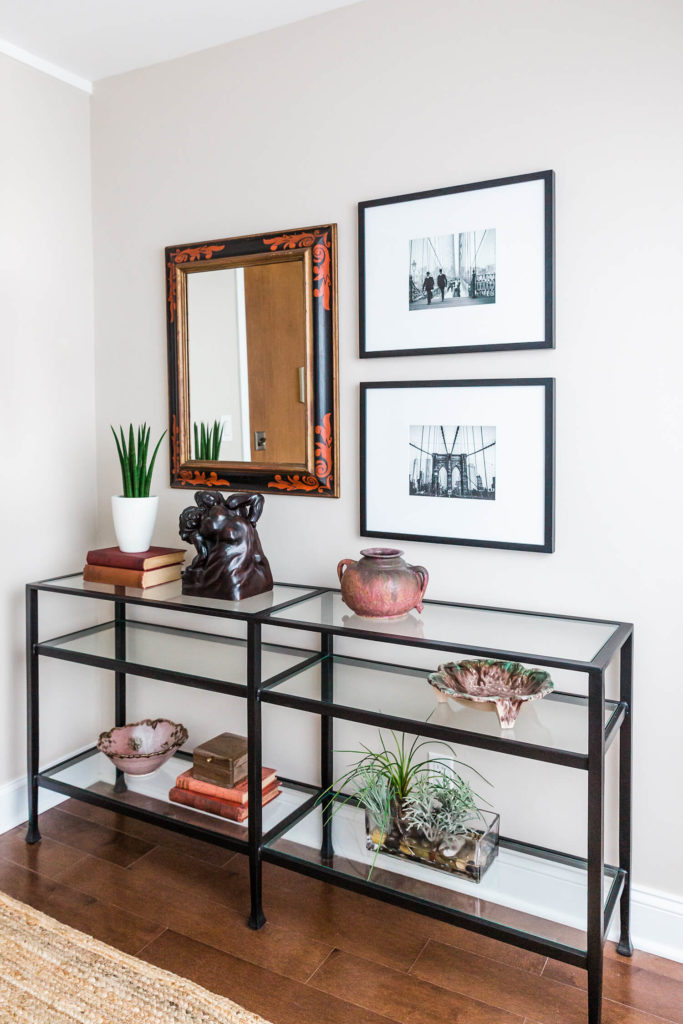 We also redesigned her bathrooms. My client wanted both bathrooms to resemble each other. She stuck with white for her vanities, this time selecting doors that had some traditional detail (in contrast to her more contemporary slab kitchen door fronts). I knew she wanted a neutral backdrop in her bathrooms so that she could bring color in through towels and her own vintage botanical artwork.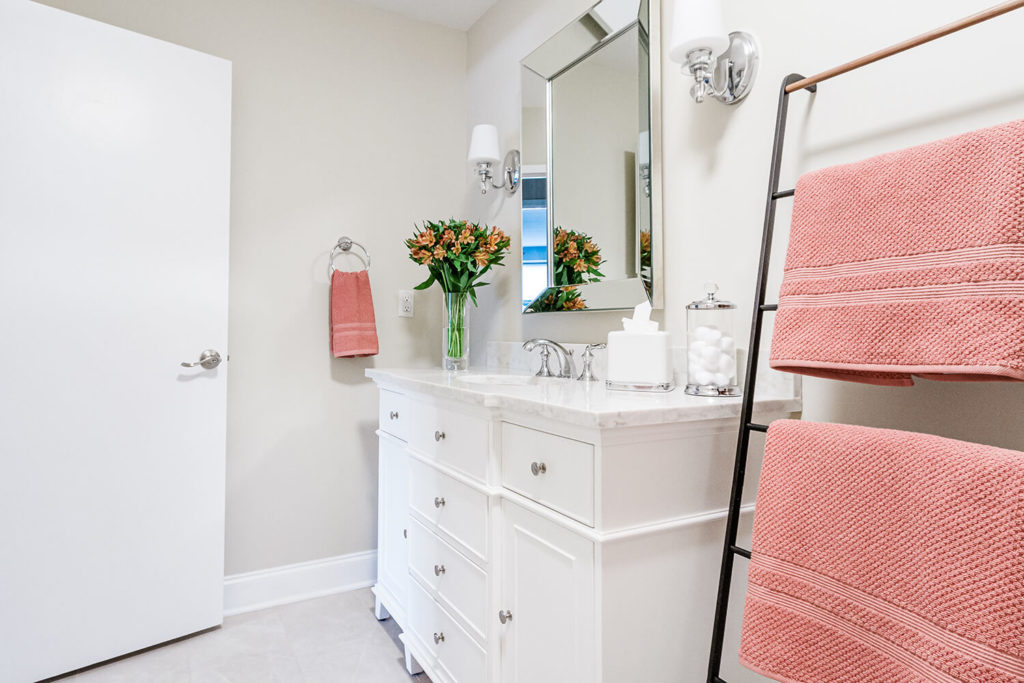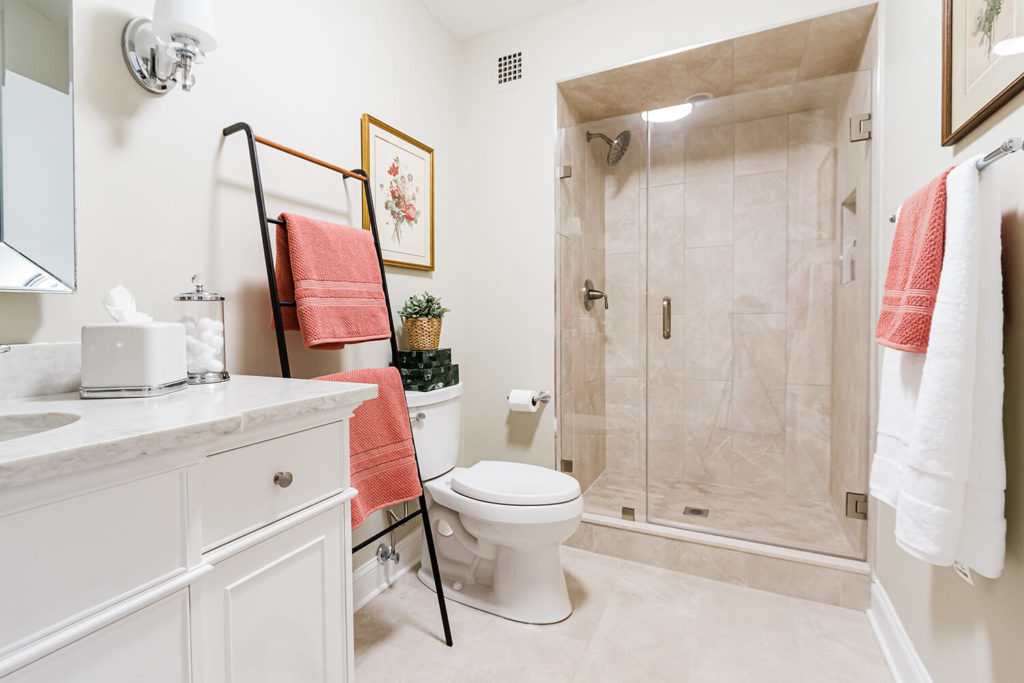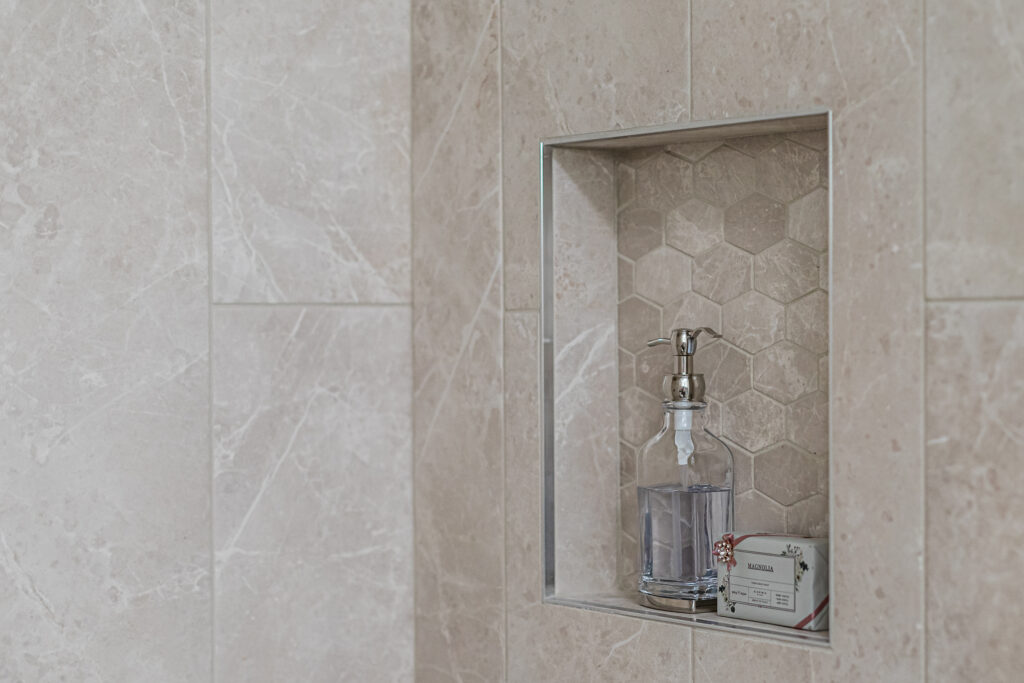 And there you have it! This is how I helped one client merge sentimental and cherished items from her former family home to her new condo to personalize it and make her very own.