A Home Office That Inspires
In recent months, it seems like the whole world has been "working" from home. Whether you've carved out a niche in a closet, spread out in the dining room, or taken over the guest room, we've all had to come up with some ingenious solutions on the fly. Me? I turned the "formal living room" into my new home office space. No matter that I kicked myself out of it and ended up at the dining room table so that my husband could have a space with doors! (He really needed doors. He talks all day for a living, being in sales.) Good thing I decided ahead of time that I would add a desk for him, too, for those times he works from home!
The Room Before it Became our Home Office
When we purchased the house, the prior owners had staged it as a pool room; they enjoyed entertaining and didn't have a finished basement. In all honesty, I abhorred the wall color. And what do I typically do with a space that I hate, knowing I'm going to turn it into a space I love one day? Nothing! I live with it as is, knowing it'll prompt me to tackle it sooner! Waiting also gets the juices flowing full of the possibilities.
The space had no closets or architectural features other than two large south-facing windows. The golden walls were really something in that southern exposure, emphasizing the red sofa and multi-color rug we brought with us from our old house. The only thing I wanted to keep was the large, white media center that contained the kids' board games, books, movies, and video games.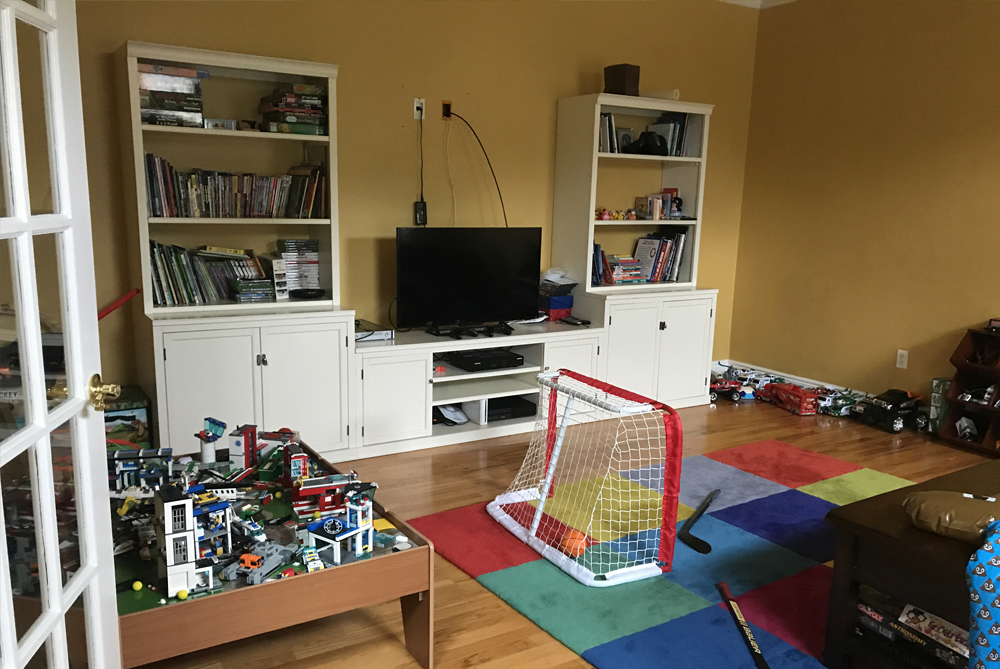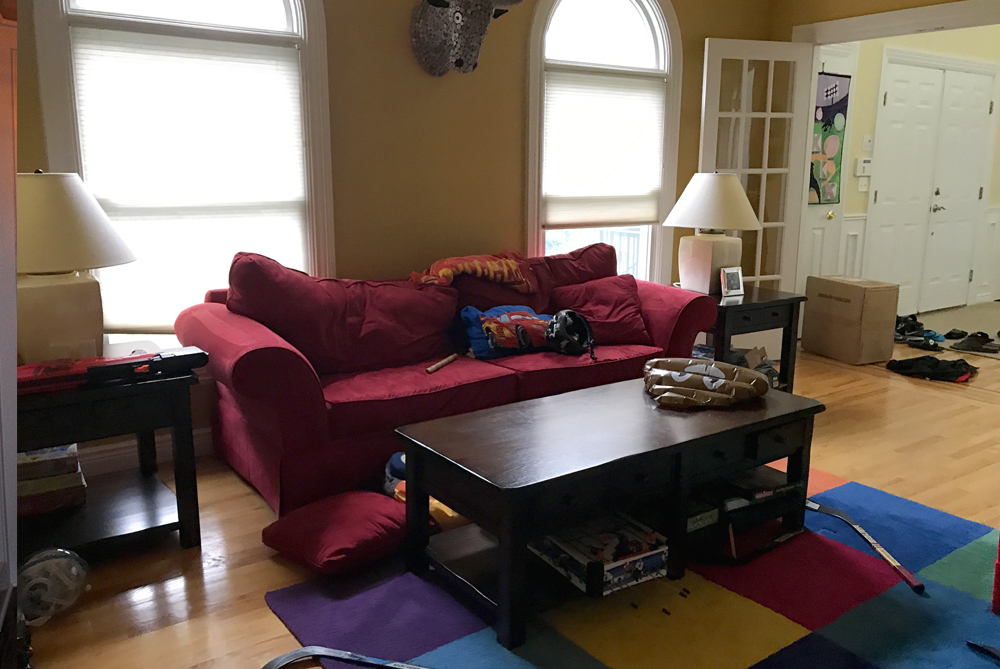 Where Would I Put the Kids and Their Playroom?
The kids were older now–can you believe I lived with those gold walls and that beat-up red sofa for 4 years?! I redecorated a small guest room upstairs for the boys that we now refer to it as "The Xbox Room."
First Things First: What Stayed and What Inspired
The tv was no longer necessary so we moved it upstairs to The Xbox Room.  So I sold the tv portion of the media center and purchased the coordinating desk to replace it. Yep, this retailer was still selling this particular built-in YEARS after I first purchased the cabinets and towers.  Score!  What does it tell you when a store still carries something years after it was introduced?  That it's probably timeless and classic, therefore easy to work with.  I also had some family photos on canvases that I adored, taken when the boys were younger.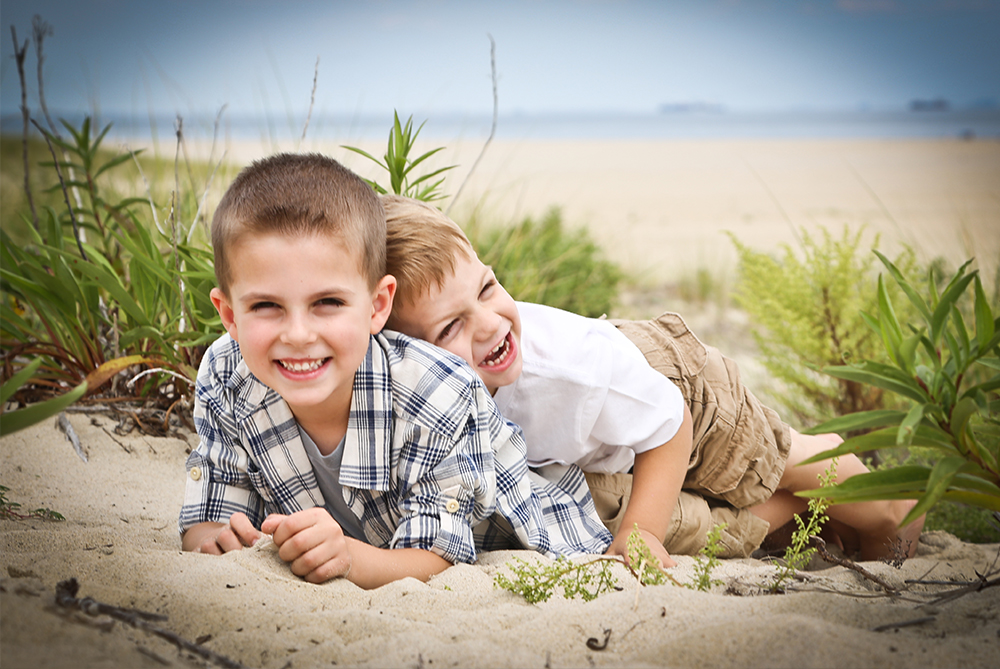 How Did the Home Office Need to Function?
So important to assess your office needs before coming up with a plan. I needed storage! I keep all sorts of fabric books, tile and countertop samples, paperwork, and design books in my office. Not to mention the second computer that I sometimes work on. Don't forget that I was making space for my husband, too! And what did my husband need? Lots of file storage and a place for the printer.
The Inspiration
Honestly, those family photos inspired my room design tremendously. I wanted the new office to feel fresh, relaxing, and beachy without being kitschy. I live in Northern NJ, there's no ocean in sight up here! But I still wanted a general beach vibe. So I made a mood board: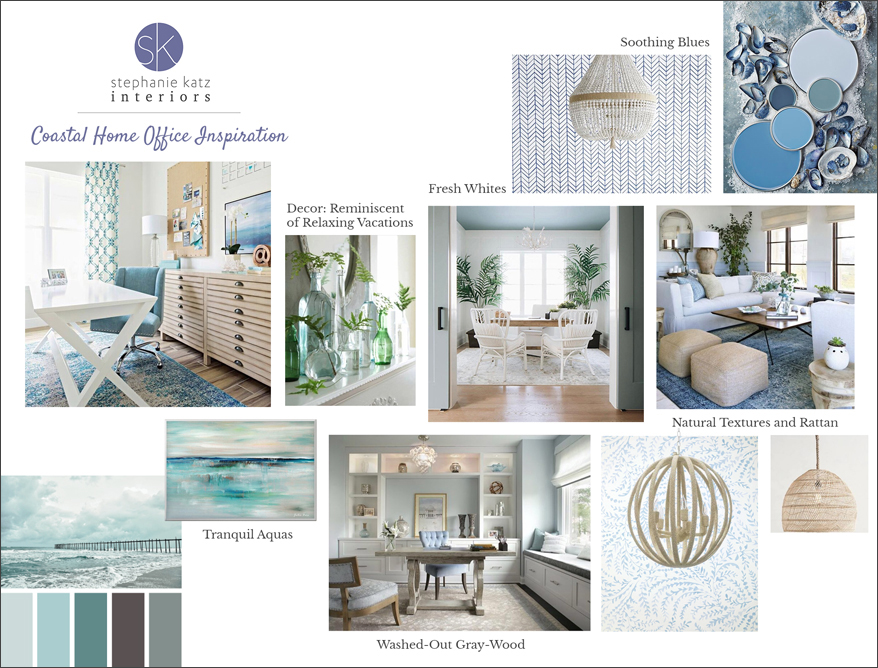 The Home Office Plan
Why have a plan? You need to make sure everything is going to fit comfortably in the room, with space to function. This room had to work well for those rare times (well, rare until 2020 hit!) that two humans would share the office. Don't be in doubt, draw it out!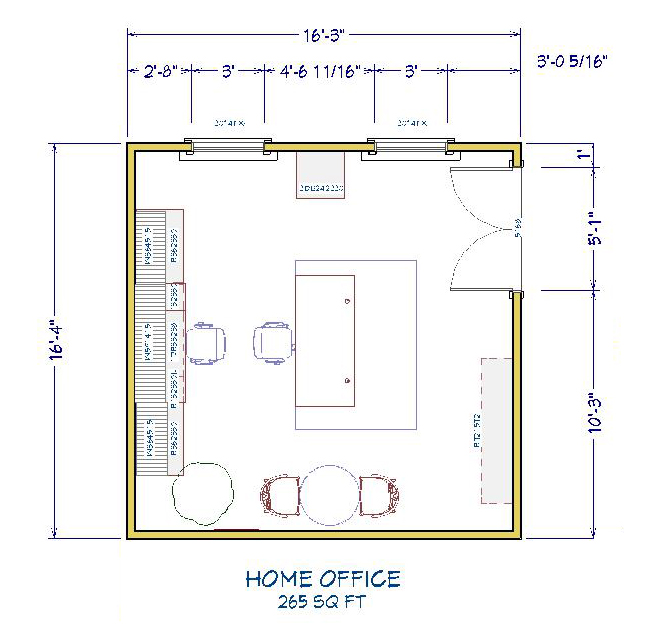 The Products
Ahhh, finally. Let's see how the selections we chose for functionality and aesthetics look all together! The white storage, towers and desk combo, the traditional but weathered-looking desk that floats in the center of the room, the beaded chandelier, the small bistro table that became my laptop's work station, the coastal art, the storage cubbies and baskets….it's important to see it all together before committing. If you don't have a plan, it can all go awry. With so many beautiful things on the internet, it's easy to get lost down a rabbit hole!  Seeing how specific products work together on  a product board helps you stay committed to the overall vibe of the room.  Winging it and buying things piece by piece without a plan often makes the room feel disjointed in the end.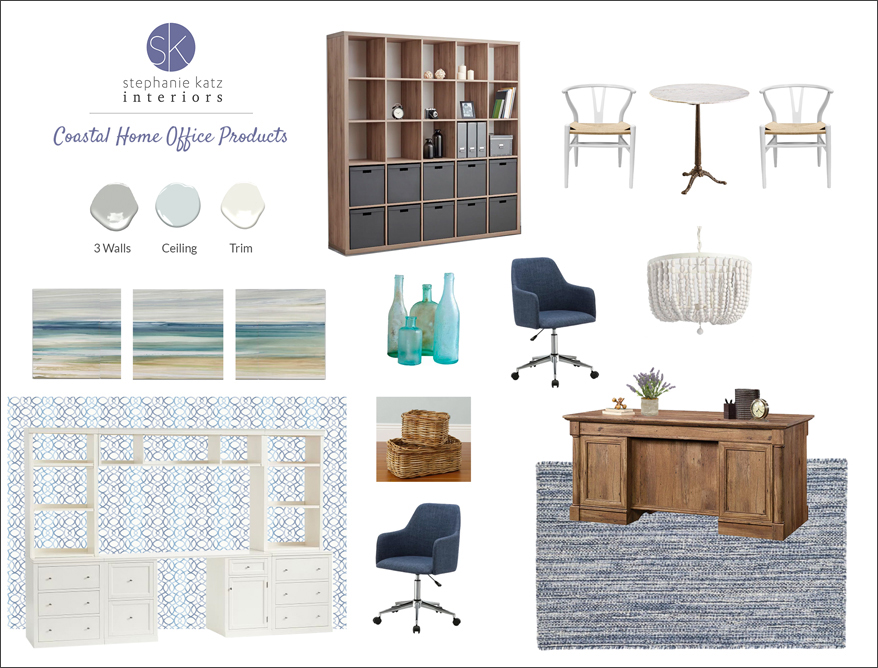 "Do I See Wallpaper!?!! "
Oh my, yes you do! Have you been noticing it more yourself, recently? I knew I wanted something on the office wall that you see when you first walk into our home. With no architectural features but windows that face the front, the room needed something extra to draw you in.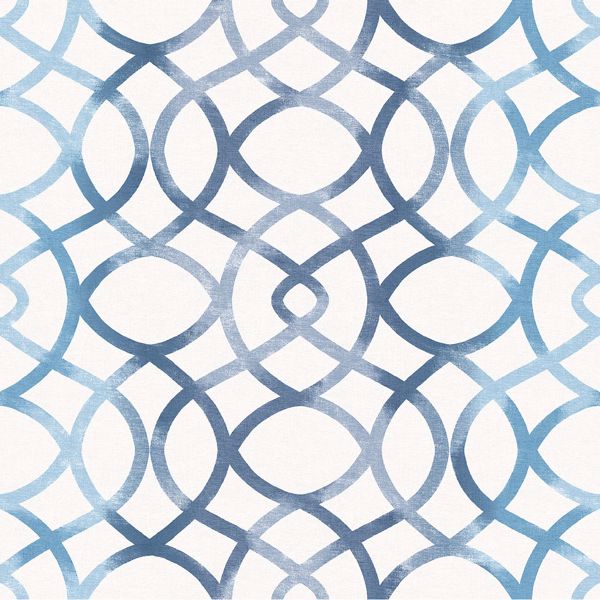 And let me tell you, it does! I never anticipated I would get so many sweet compliments from visitors! They love it…and it feels beachy without being literal using seahorses, seashells or the like. I love how the wallpaper reminds me of water ripples. It feels creative and my office is a place where I want to feel just that.
The Finished Office Space
Here she is, the view from our foyer. My happy (work) place!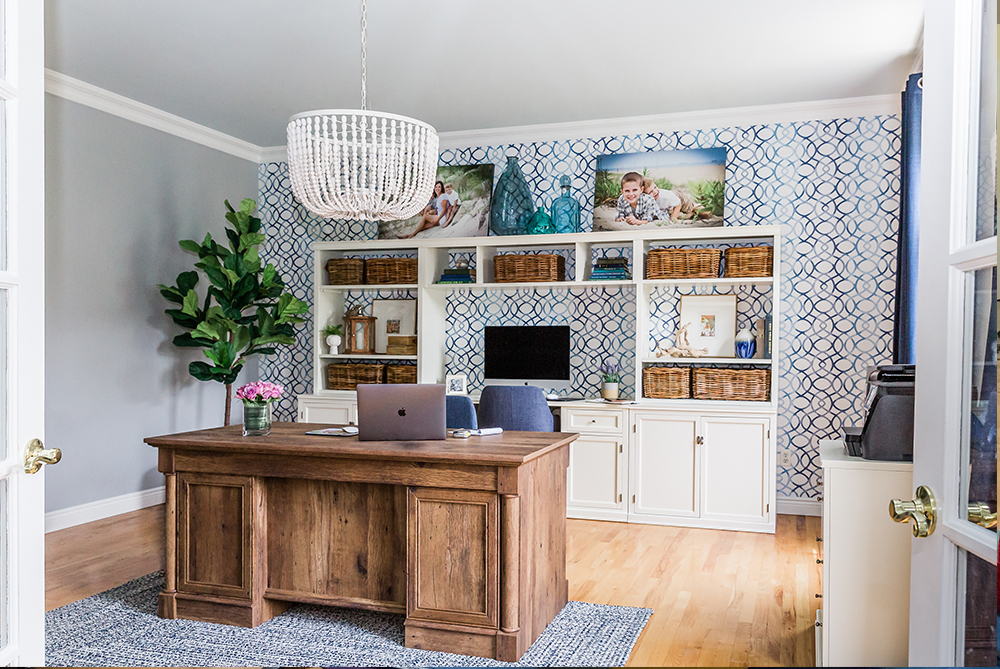 What do you think? Is this an office you could see yourself working happily from home in, even on those inclement weather days? Let me know in the comments below!